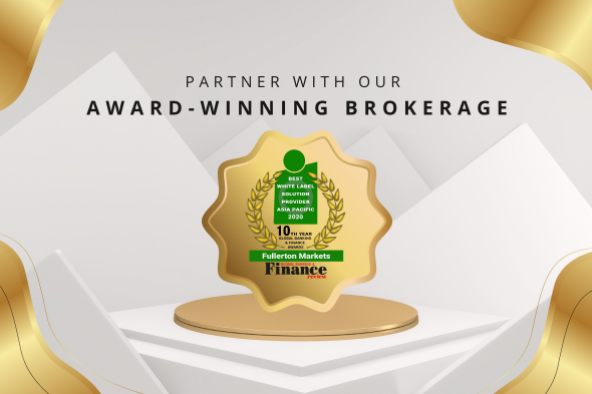 Jumpstart your business
with Fullerton Markets
Fullerton Markets has been recognised by the Global Banking & Finance Review as the
Best White Label Solution Provider Asia Pacific 2020

.

This serves as proof of our commitment to building meaningful partnerships and helping more people realise their entrepreneurial goals.

Jumpstart your business with us through our White Label solutions. We offer turnkey packages, complete with risk management tools so you can run your business without worries.
Benefits of being a White Label with Fullerton Markets
White Labels (WLs) are strategic brand builders who promote their own brokerage firm with customised solutions and state-of-the-art trading infrastructure provided by Fullerton Markets. As a White Label, you get a peace of mind with Fullerton Markets doing the heavy lifting for you so that you can focus purely on your strength – marketing and business-building.
As a White Label, you will get the following perks:
Training from our Team
Learn from the experts how to navigate through all your system's interfaces and functionalities and maximise their full potentials.
Turnkey package
Get your business up and running as soon as possible with a platform designed ready for immediate use.
24/7 Technical Support
You'll have access to 24/7 fast and reliable support that is available in different languages and delivered through multiple channels.
Full environment integration
As a complete white label solution, several features are integrated into the platform such as payment system, Multi Account Manager (MAM) and copy trading.
Ability to markup spreads
Set your own spreads to earn higher commissions. You can then increase your earnings as you attract higher trading volume.
Media press releases
Establish an immediate presence through media press releases and branded and customised marketing solutions.
Multi-level payout structure
Choose how you'll get paid based on multiple levels rather than with a flat rate.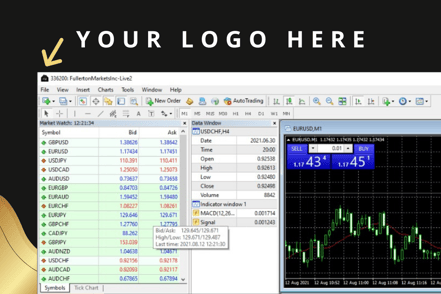 Cutting-Edge IT Infrastructure
We have data centres distributed all around the globe to ensure high-speed data transmission, minimal latency and stable connectivity.
This is crucial considering that even a millisecond-long delay in trade execution can significantly lessen your competitive edge over your rivals.
Apart from high reliability, this world-class infrastructure guarantees safety, security and a seamless trading experience.

What is White Label MetaTrader 4?
White Label MetaTrader 4 lets you start a Forex brokerage business without the hassle.
There's no need to acquire an entire trading platform, purchase a MetaTrader server license, or deal with various aspects of launching a brokerage from scratch, such as hosting servers and maintaining a backup system 24/7.
With a White Label solution, you simply rent out a part of the server but enjoy the same benefits as if you own it entirely. Whatever essential tools needed to run a brokerage are included as part of the White Label MetaTrader 4 solution. This means a lower initial investment that affords you higher returns.
If you want to take a shorter route to become a competitive Forex broker, opting for a MetaTrader 4 White Label solution is the wisest way to go.
White Label vs Full License MT4
Below is a table that shows you how a White Label compares with a Full License MT4 in terms of features.
| | | |
| --- | --- | --- |
| Features | White Label MetaTrader 4 | Full License MT4 |
| Low startup cost | ✔ | ✖ |
| Off-the-shelf server infrastructure and extensions | ✔ | ✖ |
| Robust failover solutions | ✔ | ✖ |
| Tier 1 liquidity providers | ✔ | ✖ |
| Highly cost-effective | ✔ | ✖ |
| Fast set-up | ✔ | ✖ |
What makes MT4 a great platform for White Label?
Low barrier to entry
---
Lower initial investment means low-cost entry to the Forex market. With an MT4 White Label, you get to play in a highly competitive market without the need to buy an entire server or hire several people to manage the system. What you can save from your initial investment you can then better spend elsewhere
Branded platform
---
In a fiercely competitive landscape, a fully branded platform will differentiate you from the rest. MT4 is widely used in Forex trading and every trader knows and trusts it. This makes the platform a great choice if you're to gain and maintain an edge. Take advantage of MT4's customisation options and you can create a platform that is uniquely your own.
Flexible customisation
---
The MT4 back-office allows you to customise every element on the platform. You can use colours and themes that resonate with your brand. You also have the ability to modify components, create market segments, or control trading conditions.
Compatible with different devices
---
The MT4 platform can be used across all types of devices, from desktops to mobile phones. It has available support across all devices too. With compatibility issues out of the equation, you can run your business without a hitch and attract traders with a promise of a great trading experience.
Compatible with many liquidity providers
---
This means the choice of liquidity provider is entirely up to you. Partner with a provider that will support the success of your brokerage business by eliminating restrictions and incompatibility issues.
Guaranteed security and privacy
---
MT4 is widely used because it ensures safe and secure transactions and data storage. On top of this, you have full control over account-related matters. From creating accounts to management history, you can set up the system to whatever is most convenient for your clients.